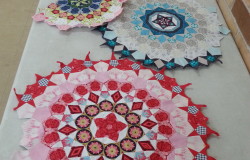 Posted on July 30, 2015 by Kate Williams in Blog, Skill Builder, skillshare.

The first meeting of the financial year went well with show and tell of some amazing projects. It never ceases to amaze me the wonderful creativity I see each month. Hoping some of this will rub off on me…. Kate mentioned the upcoming Dresden Plate Mini Quilt Challenge which will have prizes. Check your emails […]

Continue Reading... No Comments.
Posted on March 26, 2014 by Laura in applique, fmq, skillshare.

As well as the Low Volume Swap and the Suitcase Destash sale, we also have a skillshare happening this Sunday at Perth Modern Quilt Guild! The skillshare this meeting will be free-motion quilting tips, including raw edge appliqué and easy trapunto….  We are having one skill-share each meeting and this month it's Laura's turn. She's had to […]

Continue Reading... No Comments.