2017 Events
PMQG May Mother's Day Sewing – 13 May
When: Saturday 13th May  (11am-6pm)
Where: Wembley Community Centre, 40 Alexander Street, Wembley
What: Extended sewing day with an optional sewalong (more details to come very soon)

PMQG at the Craft & Quilt Fair: 24-28 May
When:  24-28th May  (9am- 4.30pm each day)
Where: Perth Convention & Exhibition Centre
Who: Carolina is our creative mastermind, putting together our double-sized stand to showcase examples of different techniques used in modern quilting. We'll need members to email submissions to her and we will be asking for volunteers to be in the PMQG stand, helping meet and greet the public during the fair.  Members check your emails for more details!
PMQG presents Sherri Lynn Wood: 20-22 October
PMQG is hosting Sherri Lynn Wood in her visit to Perth.  A wonderful opportunity for us to work on our improvisation-piecing skills!  Our trio of events, being held at the Pagoda Spa & Resort, Como, starts with a special lecture/trunk show.  This will be followed by two six-hour workshops being held in the beautiful Historic Ballroom, over the weekend of 21-22 October.   Each workshop is limited to a maximum number of 25 participants.
Here's a few more details:
Sherri Lynn Wood Lecture/Trunk Show
When: Friday 20th October
6pm onwards – Tea, coffee and iced water are included.
One hour lecture/trunk show from 6.30 – 7.30pm (times to be confirmed)
Where: Pagoda A room at the Pagoda Spa & Resort (112 Melville Parade, Como)
Sherri Lynn Workshop: Improvising From a Score
When: Saturday 21st October 8.30 am – 3.30pm (6-hour workshop + breaks) – (times to be confirmed)
Where: the beautiful Historic Ballroom of the Pagoda Spa & Resort (112 Melville Parade, Como)
Morning tea and lunch are included, as is tea and coffee.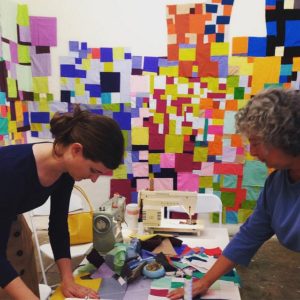 With jazz music, a score, or lead sheet, indicates basic chord changes, and arrangements of a song without specifying how the song should be performed. Now imagine a score written to perform a quilt!  In this ruler-free improv workshop participants will explore the key concept of how to set limits to support your creative flow. Finding your flow not only feels super good, it actually replaces the need of having to work from a plan. Participants will also learn basic ruler-free sewing techniques and leave with the confidence to create your own patchwork scores for future improvisational projects.
Sherri Lynn Workshop: Get Your Wedge Curve On
When: Sunday 22nd October 10am – 5pm (times to be confirmed)
Where: the beautiful Historic Ballroom of the Pagoda Spa & Resort (112 Melville Parade, Como)
Tea and coffee, lunch and afternoon tea are included.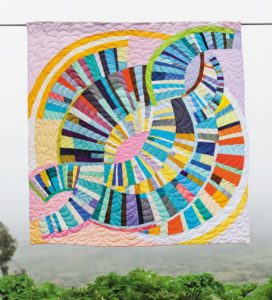 Get your wedge-curve, mod-mood, groove on in this improvisational quilt-making workshop. Participants will commit one step at a time, as they explore advanced approaches to improvised patchwork and composition, develop a personal/intuitive language of colour, and learn ruler-free, wedge-curve, piecing techniques.
The venue offers lovely accommodation so you can choose to stay over at a special rate for workshop attendees.
Members look out for the emails that we'll send you shortly for more details on how to book before we open up bookings to the public (this will happen after the May fair, if there are any spaces left)!