To celebrate our 2015/2016 theme of 'Modern Traditional', we are excited to announce that our 2015 challenge is to make a modern mini quilt showcasing the Dresden plate design in some form.
Entries to the challenge must conform to the guidelines specified in the PMQG Challenge and Swap Guidelines.  Beyond that, your imagination is the limit!
The mini quilts will be judged at the November monthly meeting on Sunday, November 29 at 3pm by Chrisje Brooks of Beez Kneez Fabrics and Quilting.  There will be two prizes given, one for the quilt which our judge deems to best reflect the challenge concept and one for the judge's personal choice.  The prizes are being generously donated by Polka Dot Tea Fabrics and Beez Kneez Fabrics and Quilting.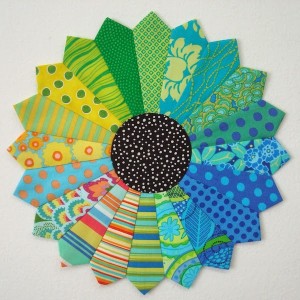 Image credit thanks to Spring Leaf Studios
To help you get your head around the challenge, there will be some Dresden plate skill sharing at our August and September monthly meetings.  Come along to find out how many ways there actually are to make a Dresden plate.  We can promise you, there is a method to suit every member…
For inspiration, Kate (Vice President Education) has put together a Modern Dresden Plate Quilt Pinterest board.
Would you like to participate but haven't made a Dresden plate before?  V and Co have posted this excellent Dresden plate tutorial.
Before you start cutting, don't forget that PMQG has the Dresden plate die (55071) in our collection, available for everyone to use at our monthly meetings. Check out this AccuQuilt Dresden plate youtube demo for cutting info to speed up your cutting time!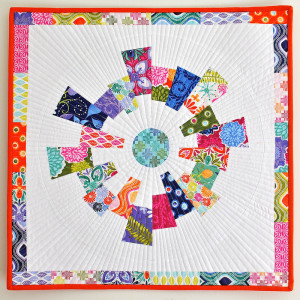 Image credit thanks to The Girl Who Quilts
Please Note: This challenge is open to financial PMQG members only.  Guests and non members, who wish to challenge themselves are welcome to create Dresden plate inspired quilts to display on the day, however, they cannot be judged in the challenge, nor are they eligible for a prize.  As this is the case, they also do not have to follow the PMQG Challenge and Swap Guidelines.